Our Story
Welcome to Danenberg Jewelers!

We are Brian Danenberg and Kate (Danenberg) Narrow, third generation and current President and Vice President (respectively) of Danenberg Jewelers in Manhattan, Kansas. We're excited to share the story of our store.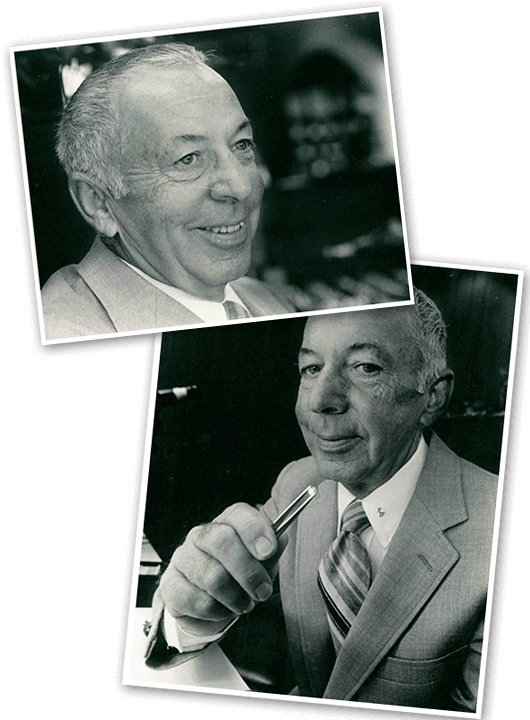 Danenberg's Holiday Jewelers was opened by our grandfather, Fred Danenberg, in 1966 at 425 Poyntz Avenue – where our showroom resides to this day.

Following World War II, Fred landed in Salina learning the jewelry and watchmaking trades and honing his skills. In the early 1960s an opportunity to manage Gerald's Jewelry Store brought Fred to Manhattan. While managing Gerald's, Fred met Laurel Zimmerman and a few short years later the entrepreneurial spirit ignited, and Fred & Laurel established Danenberg's Holiday Jewelers in 1966.

With Fred at the helm on the jewelry crafting side and Laurel fostering the customer relationships the two would go on to experience in their store great success, a few failures (as all small businesses do) and above all – staying power.

Fred was a fun-loving man with a great sense of humor while Laurel was pretty good with numbers and had a great memory which formed the foundation for enduring customer relationships.

In 1968, young Laurel was drafted to Vietnam, so Fred's son Mike – our dad – stepped in to help with the business. Upon Laurel's return in 1970, dad headed to Kansas City to train at the Kansas City School of Watchmaking. He remained in the Kansas City area (Olathe, specifically) until 1985 when Fred was ready to retire and pass along the business to the next generation. It was also around that time the Danenberg Holiday Jewelers name was shortened to Danenberg Jewelers.

In 1989, Master Bench Jeweler Keith Stewart, joined the Danenberg Jewelers family and over the past three decades he has become an integral part of the store's success. We are exceedingly proud and forever grateful for Keith's expertise, creativity and engineering mind.

Throughout the 1990's Mike, Laurel and Keith forged ahead and brought the business into a new century. By that time, we had reached adulthood and in the early 2000s we joined the family business. Brian perfected his jeweler skills under the direction of Keith, and Kate earned her Graduate Diamond's certification from the Gemological Institute of America (GIA).

The business has since earned a number of prestigious awards in the jewelry world; however, the awards our family are collectively most proud of have always been from the "People's Choice" category. After all, it's the people we have always aimed to serve. From the beginning with Fred and Laurel, then our dad Mike and the addition of Keith, on to today – through 5 decades it's been the same pursuit for all of us – foster relationships and create happy, lifelong, returning customers.

In 2013, we and the business lost our beloved grandfather and founder, Fred. We carry on his legacy today.

Today, we are running the show as dad phases out and settles into retirement.

Keith continues to ride the jewelers stool.

And perhaps most remarkable of all – for 55 years with the company - Laurel Zimmerman continued his role with Danenberg Jewelers until his retirement in 2021. Sadly, he passed away only a year and several months later. He will be forever appreciated, loved and missed by so many.

You see, this isn't just any jewelry store. Just any jewelry store can choose nice diamonds and put together nice pieces. What you won't find at just any jewelry store is a story like this one. A story of longevity, a story of endurance, a story of determination and of honesty. A story of creating a warm and inviting place to shop for jewelry. Doing the right thing and being genuine in dealings - both business and personal. Because that's what this place is to us – an extremely personal business.

Danenberg Jewelers – where not only intricate jewelry, but intricate relationships, are forged.

Whether this is your first time in the store, or your tenth time this year; we're happy to have you and we're excited to serve all your fine jewelry needs.
Thank you for your years of business and for allowing our family to play a small part in your family's story.

All the best,
Brian Danenberg and Kate (Danenberg) Narrow